New Hospital and Healthcare Facilities
New Hospital and Healthcare Facilities
Landmark' Moment As Work Begins on £64 million New Orkney Hospital and Healthcare Facility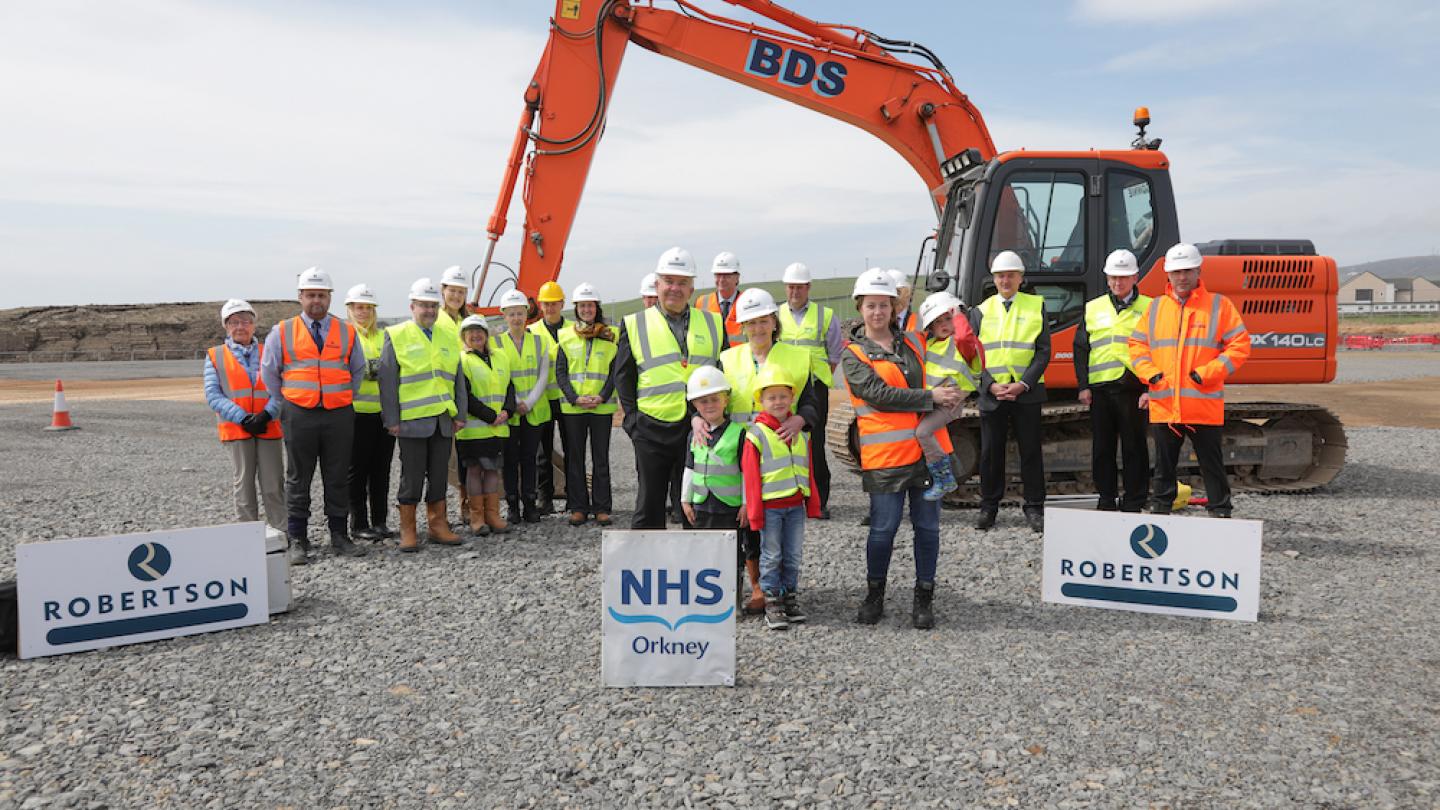 A special ceremony took place earlier today (Monday 22May) to formally mark the beginning of construction of Orkney's new Hospital and Healthcare Facility.
NHS Orkney Chairman, Ian Kinniburgh and Chief Executive Cathie Cowan, Chief Executive formally marked the start of works with Taylor Gilmour, one of the Project Team's grandchild. It was a double celebration for Taylor who also celebrates his third birthday today. Helping Taylor were local primary school pupils Murray Inkster, Joel Hamilton and Magnus Henning along with Gladys Leslie and Bill Braby, both members of the Patient Public Representative Group.
Chairman of NHS Orkney Ian Kinniburgh said: "We are absolutely delighted that work is now underway. I am grateful to the Chief Executive and her staff for working tirelessly to make this happen and to local people for the patience and support they have shown throughout. This is a proud moment for NHS Orkney and marks a vital step towards ensuring we can continue to provide high quality care in Orkney for generations to come. My thanks also goes to the Scottish Government and Scottish Futures Trust for their support in this significant project".
The two storey hospital and healthcare facility will house a range of emergency, outpatient, day case and inpatient services supported by high dependency, diagnostic and theatre facilities. In addition, Skerryvore and Heilendi GP practices and NHS Orkney's dental practice will be relocated within the new facility to reduce the money we spend on maintaining buildings that will become increasingly unfit for purpose in the near future.
All clinical areas will have videoconferencing facilities to support more patients being able to access services in Orkney and to enable NHS Orkney staff to link to health specialists nationally. The 16,248 square metre building will also accommodate the Scottish Ambulance Service and provide a base for NHS 24.
The building will have inviting internal and external spaces for the use and enjoyment of patients, visitors and staff, and will include multi-functional conference rooms, a restaurant, seating areas, shop, therapy garden and a children's play area. There will be 320 car parking spaces on the new site, which includes 10 electric car charging points, accessible parking and cycle shelters. 
Cathie Cowan said: "This is a great day for NHS Orkney; seeing the construction work up close feels really good. From the outset this project has been about more than simply providing a new facility. It's been designed in close conjunction with staff and local people to ensure that the healthcare needs of patients - whether now or in the future - are at its very core. This will be a truly first class facility and the benefits it brings shouldn't be underestimated. Such a facility will enable us to provide even better care and services as well as help us attract clinical professionals from across the country and further afield'.
Derek Shewan, Chief Operating Officer, Robertson Group, said: "We are delighted to have begun the construction work for NHS Orkney and providing the local community with a new, high quality hospital and healthcare facility. This major investment in healthcare for the area, brings new resources and facilities to Orkney that will undoubtedly benefit the local community and healthcare professionals".
"The project has seen us pull from a number of expert Robertson resources, from Capital Projects to Construction and Facilities Management. The construction phase will also see us work closely with the local community to provide apprentice and graduate opportunities as well as contract work to SMEs to ensure that the Orkney community remains at the heart of the entire project.
"This will result in a first-class facility for generations to come."
Pictures courtesy of Orkney Media Group
We will be posting regular updates, blogs, features and newsletters here.
Clinical and Non Clinical Briefs
Please follow the link to see summaries of the services which NHS Orkney will deliver form the new facility, and the resulting accommodation requirements.
Clinical and Non Clinical Briefs
Design Gallery
Please follow the link to view a mixture of artist's impressions, architectural layouts and photos of progress on the site.
Design Gallery
Documents / Publications
Please follow the link to view documents/publications relevant to the New Hospital and Healthcare Facilities
Contact Us
If you are looking for further information or have any queries regarding the New Hospital and Healthcare Facilities, please do not hesitate to contact us.
The Project Team, Balfour Hospital, New Scapa Road, Kirkwall, Orkney, KW15 1BH
Telephone: 01856 888902
Email: ork-hb.projectteam@nhs.net